African Diaspora and its Religious Heritage: A view from Triple-Border (Brazil/Paraguay/Argentina)
Keywords:
African diaspora, Latin American studies, religion, border studies
Abstract
The religious diversity of Latin America is a phenomenon that has gathered the attention of researchers from different fields. Along with the expressions of belief and feeling related to Catholics and Protestants, who are still the majority, there are diverse religious practices, in this article we will focus on the analysis of practices and beliefs arising from the Afro-descendant presence in the continent in general as well as in the region known as the Triple Frontier, in a particular way. The strong socio-cultural interrelationships feedback on the intense flow of people and material/symbolic goods, complexing religious matrices, reframing beliefs and resisting colonial violence. Our reflection is based on long fieldwork at the border towns Ciudad del Este (Paraguay), Puerto Iguaçu (Argentina) and Foz do Iguaçu (Brazil), with an ethnographic approach, documents, and bibliographic review. In this direction, this article seeks to discuss the way in which Afro-descendants have been organized and maintained in this dynamic and multiform religious scenario. Throughout this path, our intention is to characterize the specificities of the different manifestations of belief/devotion/practices of/in the region originating or re-signified by the African diaspora on the continent, at the same time that we will seek to configure the socio-historical context of the emergence of the referred religious groups. And we expect to have, in the end, an ethnographic and analytical picture of the religious effects of the African presence on the south of the Latin American continent.
References
Agostino, H. N., Cruz, E. N., & Hormaeche, L. (2014). La Argentina profunda. Estudios sobre la realidad moderna y contemporánea de Argentina en América. Purmamarka.
Andrews, G. R. (2007). Afro-Latinoamericanos 1800-2000. Iberoamericana. https://doi.org/10.31819/9783954872695
Asad, T. (2003) Formations of the secular: Christianity, Islam, modernity. Stanford University Press. https://doi.org/10.1515/9780804783095
Barreiro, R. (2017, January 8). Onde estão os negros da Argentina? El Pais. https://brasil.elpais.com/brasil/2017/01/07/internacional/1483795840_886159.html
Bastide, R. (1975). As religiões africanas no Brasil. Pioneira.
Bhabha, H. K. (2013). Nuevas minorías, nuevos derechos: Notas sobre cosmopolitismos vernáculos. Siglo XXI.
Capone, S. (2010). Searching for Africa in Brazil: Power and tradition in Candomblé. Duke University Press.
Ceceña, A. E. (2006). Verbete Tríplice-Fronteira. In E. Sader & I. Jinkings (Eds.), Enciclopédia latino-americana (p. 654). Boitempo.
Cesaire, A. (1969). Cahier d'un retour au pays natal. Présence Africaine.
Cirio, N. P. (2000). Antecedentes históricos del culto a San Baltazar en la Argentina: La Cofradía de San Baltazar y Animas (1772–1856). Latin American Music Review, 21(2), 190–214. https://doi.org/10.2307/780452
Cirio, N. P. (2002). Prácticas musicales de procedencia afro en el culto a San Baltazar: La "charanda" de Empedrado (provincia de Corrientes, Argentina). Revista Musical Chilena, 56(197), 9–38. https://doi.org/10.4067/S0716-27902002019700002
Cirio, N. P. (2014). Historia y etnohistoria del culto a san Baltazar en la Argentina en perspectiva musical. In H. N. Agostino, E. N. Cruz & L. Hormaeche (Eds.), La Argentina profunda. Estudios sobre la realidad moderna y contemporánea de Argentina en América (pp. 183–209). Purmamarka.
Costa, S. (2006) Dois Atlânticos. Teoria social, anti-racismo, cosmopolitismo. UFMG.
Da Silva, V. G. (2013). Exu do Brasil: tropos de uma identidade afrobrasileira nos trópicos. Revista de Antropologia, 55(2), 1085–1114.
de Azara, F. (1969). Viajes por la América Meridional. Espasa Calpe.
de Oliveira, M. (2004). A Religião mais negra do Brasil. Mundo Cristão.
de Oliveira, M. (2005). Espiritualidade, Identidade e Cultura. In N. Bomilcar (Ed.), O melhor da Espiritualidade Brasileira (pp. 239–254). Mundo Cristão.
Demant, P. (2013). O mundo muçulmano (3rd ed.). Contexto.
Dos Santos, M. (2016). Espaços Sagrados: uma etnofotografia do Candomblé da Tríplice Fronteira entre Brasil, Paraguai e Argentina [End of course paper, Federal University for Latin American Integration]. Repositório Institucional da Universidade Federal da Integração Latino-Americana. https://dspace.unila.edu.br/bitstream/handle/123456789/4913/tcc_normalizado.pdf
Dreyfus, P. (2007). La Triple Frontera: zona de encuentros y desencuentros. In W. Hofmeister, F. Rojas, & J. G. Solis (Eds.), La percepción de Brasil en el contexto internacional: perspectivas y desafíos (pp. 105–134). Konrad-Adenauer-Stiftung,
Du Bois, W. E. B. (1942). Color and Democracy: colonies and peace. Harcourt.
Eltis, D., & Richardson, D. (2010). Atlas of the transatlantic slave trade. Yale University Press.
Fanon, F. (1973). The wretched of the earth: The handbook of the third-world revolution. Ballantine Books.
Ferretti, S. F. (1986). Querebentan de Zomadonu: etnografia da Casa das Minas. Editora da Universidade Federal do Maranhão.
Frigerio, A. (2000). Cultura negra en el Cono Sur: Representaciones en conflicto. Facultad de Ciencias Sociales y Económicas, UCA.
Fry, P. (2004). Espíritos brasileiros no Mercosul: a expansão da religião nos países do prata. Anuário Antropológico, 28(1), 427–432.
Gates, H. L., Jr. (2011). Black in Latin American. New York University Press.
Gilroy, P. (2002). O Atlântico negro: Modernidade e dupla consciência. Editora 34; UCAM.
Gomes, J., Jr., Silva, G. L., & Costa, P. B. (2008). Paraná Negro. UFPR; PROEC.
Gomes, M. V. (2002). La presencia negroafricana en la Argentina. Pasado y permanencia. Bibliopress, 5(9), 2–18.
Glissant, E. (1997). Poetics of relation. The University of Michigan Press. https://doi.org/10.3998/mpub.10257
Hall, S. (1994). Cultural identity and diaspora. In P. Williams, L. Chrisman (Eds.). Colonial Discourse and Post-Colonial Theory: a reader (pp. 392–403). Columbia University Press.
IBGE (Instituto Brasileiro de Geografia e Estatística). (2012). Censo Demográfico 2010. Características da população e dos domicílios: resultados do universo. IBGE.
Khalil, R. S. (2018). Em nome de Alá: Produção de carne halal, migrações transnacionais e direitos humanos [End of course paper, Federal University for Latin American Integration].
Kolinski, C. (2018). El grupo tradicional Kamba Cuá: música y danza en la formación del movimiento político-identitario afro-paraguayo. Suplemento Antropológico, (53), pp. 199–284.
Levaggi, A. (1973). La condición jurídica del esclavo en la época hispánica. Revista de Historia del Derecho, (1), 83–175.
Mercosul se une contra terrorismo. (2001, September 29). Jornal do Brasil – Caderno Brasil.
Mota, L. T. (2005). História do Paraná: ocupação humana e relações interculturais (pp. 3-12). Eduem.
Motta, R. (1982). Renda. Bandeira de Alairá: A festa de Xangô-São João e problemas sincretismo. In C. E. M. de Moura (Ed.), Bandeira de Alairá: Outros escritos sobre a religião dos orixás (pp. 3–12). Nobel.
Montenegro, S. (2002). Identidades muçulmanas no Brasil: entre o arabismo e a islamização. Lusotopie, (9), 59–79.
Montenegro, S. (2015). Institutionalizing Islam in Argentina: Comparing Community and Identity Configurations. In M. d. M. Logroño Narbona, P. G. Pinto & J. T. Karam (Eds.), Crescent over Another Horizon (pp. 85–106). University of Texas Press.
Oro, A. P. (1994). As religiões afro-brasileiras no Rio Grande do Sul. UFRGS.
Oro, A. P. (1999). Axé Mercosul: As religiões afro-brasileiras nos países do Prata. Vozes.
Palmié, S (2008). Africa of the Americas: Beyond the Search of the Origins. Brill Academic Publishers.
Pinto, P. G. (2009). De la inmigración a la diáspora: los árabes en Brasil. In K. Hauser, D. Gil (Eds.), Contribuciones árabes a las identidades latinoamericanas (pp. 191–210). Casa Árabe.
Pla, J. (1972). Hermano Negro. La esclavitud en el Paraguay. Paraninfo.
Pla, J. (1974). La esclavitud en el Paraguay. El rescate del esclavo. Revista Paraguaya de Sociología, (31), 29–49.
Prandi, R. (1991). Os Candomblés de São Paulo: a velha magia na metrópole nova. Hucitec; Edusp.
Rabossi, F. (2013). Dinámicas económicas en la Triple Frontera (Brasil, Paraguay y Argentina). In F. Carrión (Ed.), Seguridad, Planificación y Desarrollo en las Regiones Transfronterizas (pp. 167–193). FLACSO; IDRC-CRDI.
Ribeiro, L. M. P. (2011). Negros Islâmicos no Brasil escravocrata. Cadernos CERU, 22(1), 287–304. https://doi.org/10.11606/issn.2316-9036.v0i91p139-153
Ribeiro, L. M. P. (2012). A implantação e o crescimento do islã no Brasil. Estudos de Religião, 26(43), 106–135. https://doi.org/10.15603/2176-1078/er.v26n43p106-135
Ritt, E. (2011). A Colônia Militar de Foz do Iguaçu/PR: um projeto de consolidação de uma fronteira. [Dissertação de mestrado, Universidade Estadual de Londrina]. Biblioteca Digital da Produção Científica, Tecnológica, Artística e Cultural da Universidade Estadual de Londrina. http://www.bibliotecadigital.uel.br/document/?down=vtls000170758
Rodrigues, N. (1977). Os africanos no Brasil (Rev. Ed.). Nacional.
Rolim, F. C. (1985). Pentecostais no Brasil: Uma interpretação sócio-religiosa. Vozes.
Romero, F. L. (2017). Diáspora religiosa Mouridiyya: aproximações etnográficas no contexto de imigrantes senegaleses muçulmanos no Sul do Brasil. In F. Baggio, P. Parise, & W. Lopes Sanchez (Eds.), Diásporas Africanas e Processos sociorreligiosos (pp. 139–158). Paulus.
Schucman, L. V. (2014). Entre o Encardido o Branco e o Branquissimo: Branquitude Hierarquia e Poder na Cidade de São Paulo. Annablume.
Segato, R. L. (2005). Oracle, destiny and personality in Afro-Brazilian cosmologies. In T. Schabert (Ed.), Prophets and prophecies (pp. 175–196). Königshausen & Neumann.
Sibai, S. A. (2016). La cárcel del feminismo. Hacia un pensamiento islámico decolonial. Akal; InterPares.
Silva, A. F. (2018). Social Dynamics, Transnational Flows and Public Incidence of Religion in the Frontier in Latin America. Religions, 9(5), 152. https://doi.org/10.3390/rel9050152
Silva, A. F., & Procópio, C. E. P. (2019a). Colonialidades do crer, do saber e do sentir: apontamentos para um debate epistemológico a partir do Sul e com o Sul. Revista de Ciências Sociais, (50), 15–30.
Silva, A. F. & Procópio, C. E. P. (2019b). Cristianismos em Região de Fronteira: Trânsitos, Tensões e Reconfigurações Religiosas. Revista TOMO, (34), 159–188.
Skidmore, T. (1993). Black Into White: Race and Nationality in Brazilian Thought (3rd ed.). Duke University Press. https://doi.org/10.1215/9780822381761
Tambores para el santo negro. (2009, January 7). El Territorio. https://www.elterritorio.com.ar/tambores-para-el-santo-negro-9243766883598112-et
Telesca, I. (2005). La población parda en Asunción a fines de la colonia. Estudios Paraguayos, 22/23(1-2), 29–50.
Telesca, I. (2008). La historiografía paraguaya y los afrodescendientes. In M. J. Becerra (Ed.), Los estudios afroamericanos y africanos en América Latina: herencia, presencia y visiones del outro (pp. 165–186). CLACSO, Centro de Estudios Avanzados, Programa de Estudios Africanos.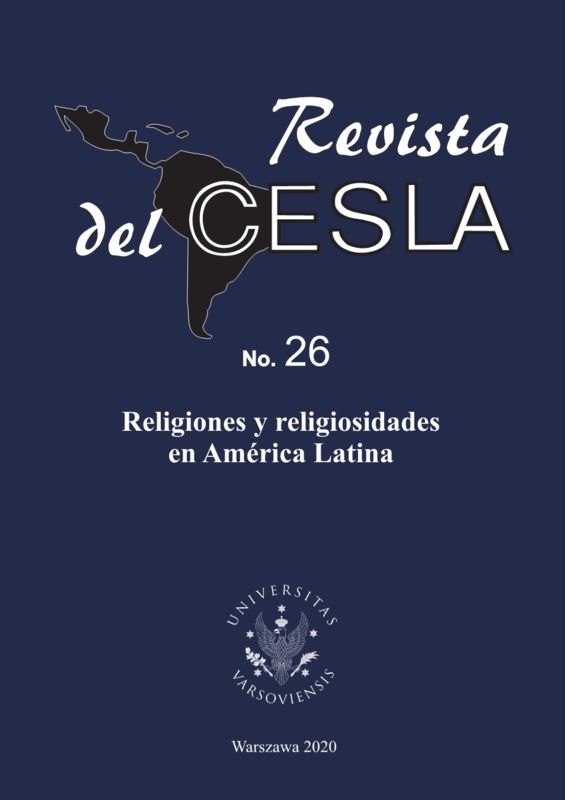 Copyright (c) 2020 Revista del CESLA. International Latin American Studies Review
This work is licensed under a Creative Commons Attribution-ShareAlike 4.0 International License.