The making of a visionary culture: connected histories among Marian apparitions in Portuguese-Brazilian world (1917-1936)
Keywords:
Marian apparitions, Catholic scholars, Marian devotions, Portugal - Brazil, Pernambuco
Abstract
This paper will analyze the shaping of supposed Marian apparitions in Pesqueira, a Brazilian city located in Pernambuco, as part of a series of events related to the devotions to Our Lady representations in modern and contemporary periods. Based on the propositions of Cultural History, regional newspapers, ecclesiastical documents, and personal letters were used in order to understand the relation of these events to political, economic, and social issues of the first half of the 20th century. The analysis will suggest that the events in Pesqueira were connected to other religious representations, such as the apparitions in Lourdes (France) and Fatima (Portugal), reinforcing the image of the 20th century as the "golden century" of apparitions to members and followers of the Catholic Church. Therefore, this work highlights the central performance of ecclesiastics, scholars, and devotees in the shaping of new devotions and cults in a specific space in Latin America.
References
A "Santa" de Tegipió. (1931, May 19). Jornal Pequeno, 1.
Amorim, F. L. (2002). Uma Cidade Germanófila, em 30. O integralismo em Pesqueira. Universidade Federal de Pernambuco.
Apolito, P. (1992). Il Cielo in Terra. costruzioni simboliche di un'apparizione mariana. Il Mulino.
Arquivo Histórico do Patriarcado de Lisboa. (1940). Carta de Alexandrina de Balasar ao Presidente do Conselho de Ministros António Oliveira Salazar. PT/AHPL/PAT 14-SP/I-07/01/001/01.
Barreto, J. (2002). Religião e sociedade. Dois ensaios. Imprensa de Ciências Sociais.
Bernardino, F. M. C. (2007). O Segredo de Fátima. Ensaio de hermenêutica teológica. Universidade Católica Portuguesa.
Burke, P. (2005). O que é História Cultural? Jorge Zahar Editor.
Catroga, F. (2006). Entre Deuses e Césares. Secularização, laicidade e religião civil. Uma perspectiva histórica. Almedina.
Christian Jr., W. A. (1996). Visionaries. The Spanish Republic the Reign of Christ. University of California Press.
Coutrot, A. (2003). Religião e Política. In R. Rémond (Ed.), Por uma História Política (pp. 331-363). FGV.
da Silva, E. M. (2010). Viajantes e Missionárias. gênero e religião entre as protestantes norte-americanas no Brasil (1870-1920). Campinas: Universidade Estadual de Campinas.
da Silva, E. M. (2012). "Os Anjos do Progresso no Brasil": as missionárias protestantes americanas (1870 – 1920). Rever (01), pp. 103–126. https://doi.org/10.21724/rever.v12i1.10483
da Silva, P. J. (2016). Entre a evangelização e a política. a expansão missionária batista para o Brasil Central (1925-1939). Campinas: Universidade Estadual de Campinas.
da Silva, R. M. F. (2016). "Eu sou a graça". As aparições de Nossa Senhora das Graças em Pernambuco – História e Teologia em confronto em busca da verdade. Ecclesiae.
de Moura, C. A. S. (2018). Histórias Cruzadas. Intelectuais no Brasil e em Portugal durante a Restauração Católica (1910–1942). Imprensa de Ciências Sociais; Universidade de Lisboa.
Diocese of Pesqueira. (1937). Ultimas apparições em genipapinho. Diocese of Pesqueira.
Fontes, P. F. de O. (2011). Elites Católicas em Portugal. O papel da Acção Católica (1940–1961). Fundação Calouste Gulbenkian; Fundação para a Ciência e Tecnologia.
Gasbarro, N. (2006). Missões: A Civilização Cristã em Ação. In P. Montero (Ed.), Deus na Aldeia. Missionários, índios e mediação cultural (pp. 67-109). GLOBO.
Gasbarro, N. (2013). Religione e/o religioni? la sfida dell'antropologia e della comparazione storico-religiosa. In E. M. de A. Maranhão Filho (Ed.), Em(Re)conhecendo o sagrado. Reflexões teórico-metodológicas dos estudos de religiões e religiosidades (pp. 83-106). Fonte Editorial.
Gasbarro, N. (2014). A modernidade ocidental e a generalização de "religião" e "civilização": o agir comunicativo das missões. In N. de B. Almeida & E. M. da Silva (Ed.), Missão e Pregação. A comunicação religiosa entre a História da Igreja e a História das Religiões (pp. 189-210). FAP; UNIFESP.
La Puma, Card. V. (1917). Codice di Diritto Canonico. Società Editrice Internazionale.
Lampeão em território pernambucano? (1936, May 22). Jornal Pequeno, 3.
"Lampeão" está em território pernambucano. (1936, October 22). Diário de Pernambuco, 1.
Lopes, F. R. L. (2012). Práticas Sociais e Discursos Políticos em Torno de Cultos Populares. Universidade Técnica de Lisboa.
Marques, T. P. (2012). De corpo e alma na margem: catolicismo, santidade e medicina no Norte de Portugal. Topoi, 13(25), 147–167. https://doi.org/10.1590/2237-101X013025009
Miceli, S. (2009). A elite eclesiástica brasileira: 1890-1930. Companhia das Letras.
Miscelanea. (1912, March 24). Gazeta de Pesqueira, 4.
No logar onde apparece a Santa está jorrando agua milagrosa. Segunda-feira estiveram em Cimbres mas de três mil pessôas. (1936, September 15). Jornal Pequeno, 1.
Olinda Misteriosa. (1934, August 18). Jornal Pequeno, 1.
Ratzinger, J. (2000). Comentário Teológico. http://www.vatican.va/roman_curia/congregations/cfaith/documents/rc_con_cfaith_doc_20000626_message-fatima_po.html
Reis, B. C. (2001). Fátima: a recepção nos diários católicos (1917–1930). Análise Social, (XXXVI), 249–299.
Salgado, P. (1955). Manifesto da Ação Integralista Brasileira, 1932. In P. Salgado (Ed.), Obras Completas (pp. 133-154). Américas.
Silva, G. B. (2017). Integralismo e Estado Novo. Diálogos e confrontos. Universidade Federal Rural de Pernambuco.
Simpson, D. (2014). A Igreja Católica e o estado novo salazarista. Edições 70.
Suposta aparição de uma santa. (1936, July 21). Jornal Pequeno, 3.
Tavares, J. S. (1931). Fátima e Lourdes. Brotéria, XII(V), 273–287.
Trindade, H. (1979). Integralismo. O fascismo brasileiro dos anos 30. Difel.
Verde, G. V. (2016). Maria Milza. Milagres e mistérios no sertão da Bahia. Albatroz.
Visão confortadora! Duas creanças, perdidas na matta, viram Nossa Senhora. (1936, September 2). Jornal Pequeno, 1–2.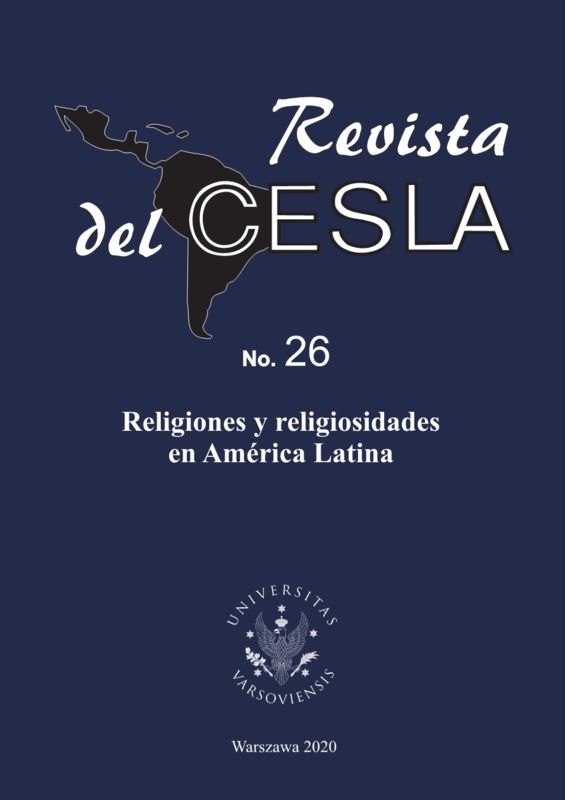 Copyright (c) 2020 Revista del CESLA. International Latin American Studies Review
This work is licensed under a Creative Commons Attribution-ShareAlike 4.0 International License.