Migration and Sustainable Remittance: Family and Community of Workers by Contract to Canada in Acateno, Puebla, Mexico
Edilma DE JESUS DESIDÉRIO

University of Guadalajara (Mexico)

Nancy ALTAMIRANO MÉND

University of Guadalajara (Mexico)
Keywords:
Mexico, Puebla, Acateno, ;abor migration to Canada, remittance
Abstract
Migration to Canada via the Temporary Agricultural Workers Program has become an alternative for the residents of Acateno to obtain economic resources that contribute to the improvement of the quality of life of the families that receive remittances. This paper analyzes the migratory practices of coming and going that are configured as a temporary space production of labor activity by formal contract, from the theoretical perspective of sustainable development. The materials and methods combine a transductive methodological procedure with a qualitative approach. The results and discussion point to the ways in which migrants have found opportunity gaps to create, through the use of remittances, an environment of social, economic and environmental sustainability that brings them closer to possible intergenerational benefits.
References
Arango, J. (2003). La explicación teórica de las migraciones: luz y sombra. Migración y Desa-rrollo, (1), 1-30. Recuperado de http://www.redalyc.org/articulo.oa?id=66000102.

Binford, L., Carrasco, G., Arana, S., Santillana, S. (2004). Crisis agrícola, migración y trabajo por contrato en Tlaxcala. En L. Binford, G. Carrasco, S. Arana, & S. Santillana, Rumbo a Canadá: la migración canadiense de trabajadores Agrícolas Tlaxcaltecas, 19-37. México: Ediciones Taller Abierto.

Consejo Nacional de Población (2010). Anexo B. Índices de intensidad migratoria México-Estados Unidos por entidad federativa y municipio. Recuperado de http://www.conapo.-gob.mx/work/models/CONAPO/intensidad_migratoria/anexos/Anexo_B1.pdf.

De Jesus, E. (2013). Espacio de paso en la actividad migratoria de tránsito en Chiapas. Tesis de Doctorado, Universidad Nacional Autónoma de México, Ciudad de México, México.

Durand, J. (2007). El Programa Bracero (1942-1964). Un balance crítico. REDALYC, 27-34. Re-cuperado de http://www.elnuevosol.net/wp-content/uploads/2011/04/El-Programa-Bracero-Un-Balance-Cr%EDtico.pdf.

Enciclopedia de las Delegaciones y Municipios de México (s.a.) Estado de Puebla: Acateno. Recuperado de http://www.inafed.gob.mx/work/enciclopedia/EMM21puebla/municipios/21002a.html.

Instituto Nacional de Estadística y Geografía (2015). Encuesta Intercensal. Recuperado de http://www.beta.inegi.org.mx/proyectos/enchogares/especiales/intercensal/default.html?init=1.

Lara, S.M., Pantaleón, J., Sanchez, G. (2015). Hacia el otro Norte Mexicanos en Canadá. Buenos Aires: CLACSO.

Secretaria de Relaciones Exteriores (2016). Gobierno de México. Recuperado de https://www.gob.mx/-sre/acciones-y-programas/el-programa-de-trabajadores-agricolas-temporales-mexico-canada-ptat.

Servicio Nacional de Empleo y Secretaría del Trabajo y Previsión Social (2016). Lineamientos de Operación Programa de Trabajadores Agrícolas Temporales México – Canadá. México.

Stefoni, C., Neira, F., Martínez, J. (2012). Impactos visibles: las remesas. En F. Neira, El uso de remesas pa-ra proyectos productivos en Sudamérica, 18-19. Ciudad de México: Centro de Investigaciones sobre América Latina y el Caribe Universidad Nacional Autónoma de México.

Simmons, A. (2015). Transformación de la política internacional de migración de Canadá. Im-plicaciones para México. En L. Sara, J. Pantaleón, & M. Sánchez, Hacia el otro Norte Me-xicanos en Canadá, 17-42. Buenos Aires: CLACSO.

Vanegas, R.M. (2001). Incremento de la fuerza laboral mexicana agrícola en Canadá. Ponencia presentada en el V Seminario Internacional de Análisis sobre Integración Regional, Fron-teras y Globalización. Maracaibo, Venezuela.

Vanegas, R. M., Franco, C., y Figeroa, J.M. (2010). Evaluación crítica del Programa Agrícola Temporal México-Canadá 2006. Antropología. Boletín Oficial del INAH, 95-108.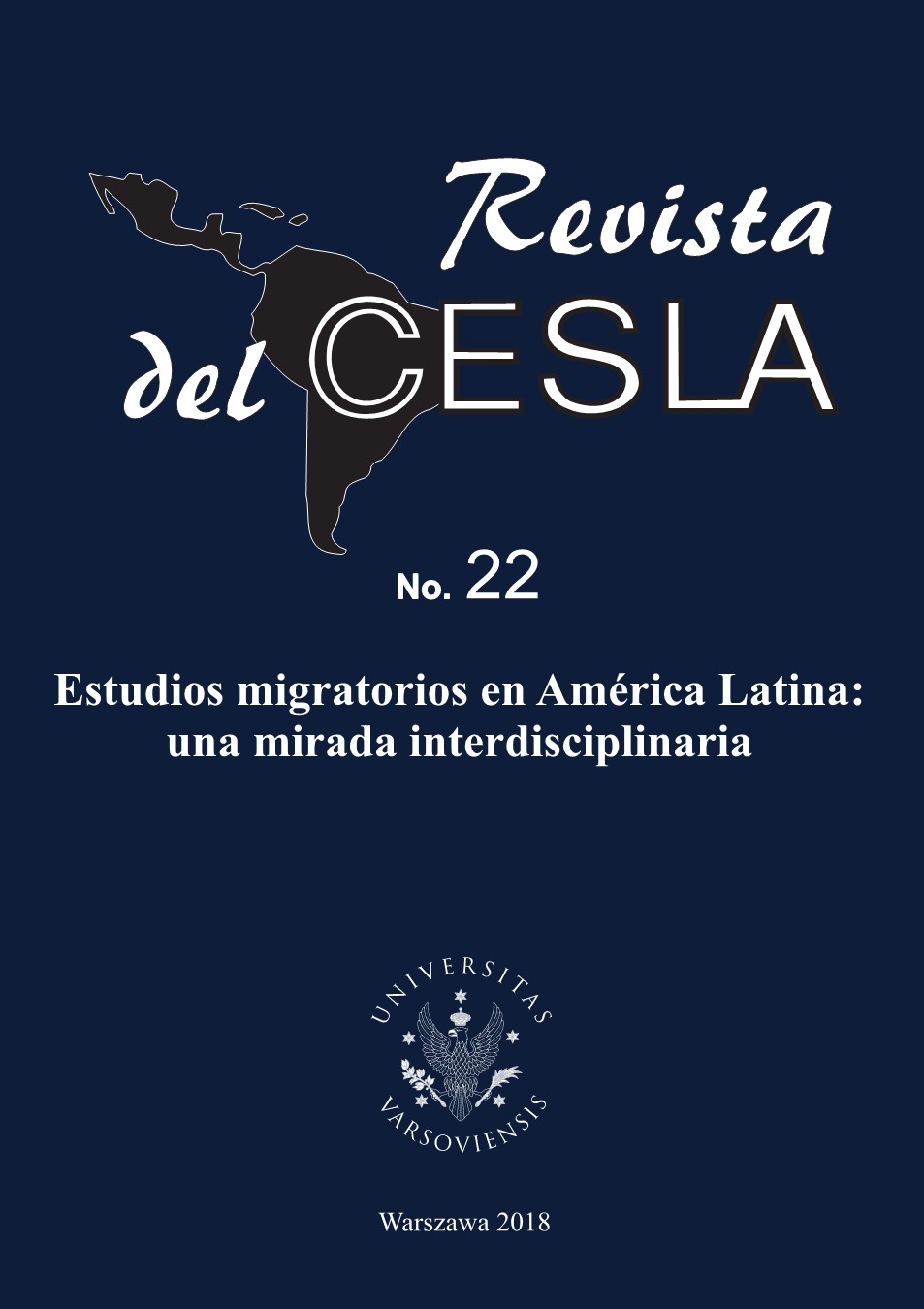 Copyright (c) 2018 Revista del CESLA
This work is licensed under a Creative Commons Attribution-ShareAlike 4.0 International License.