Deep in Brazil: The National Identity from the Media Reception of the Interiorisation of the Venezuelan Immigrants
Isabel Regina AUGUSTO

Universidade Federal do Amapá - UNIFAP

Vângela Maria ISIDORO DE MORAIS

Federal University of Roraima (Brazil)
Keywords:
Migration, Latin America, Venezuela, Brazil, media, journalism, national identity
Abstract
Faced with the undeniable relevance of the media as a field of construction of meanings about post-industrial society and its conflicts, this article analyzes the discursive potential of coverages to influence the processes of human displacement, through a case study in Latin America. The coverage analyzed the immigration of Venezuelans to Brazil starting in 2015, on route through the state of Roraima (North of Brazil), and the process of internalization of these immigrants to other states of the country; I assume the coverage was released in Apr 2018. Through virtual comments on the website of G1 news, Globo Organizations, we have built our corpus with the first three articles on the subject. The analysis questions the meanings of national identity indicated in the practices of receiving the news of Venezuelan exodus to Brazil. We approach the problem from the perspective of scholars of communication and culture, such as Jesús Martín-Barbero and Néstor Garcia Canclini and scholars of identity, history and nationality issues, such as Stuart Hall and Sérgio Buarque de Holanda. The data indicate the return of the controversy of interpretations of the "cordial man" (according to Buarque), allowing the understanding of the reception of Brazilians to the news of the analyzed corpus.
References
Bardin, L. (2016). Análise de conteúdo. São Paulo: Edições 70.

Bhabha, H. (org.). (1990). Narrating the Nation. London: Routledge.

Braga, J.L. (2012). Circuitos versus campos sociais. In: M.A. Mattos, J. Janotti Junior, N. Jacks (orgs.). Mediação e Midiatização. Salvador: EDUFBA, 31-52. Recuperado de http://books.scielo.org/id/k64dr/pdf/mattos-9788523212056-03.pdf.

Bezerra, E. (2005). Ribeiro Couto e o homem cordial. Revista Academia Brasileira, XI, fase VII, 123-130. Recuperado de http://www.academia.org.br/abl/media/prosa44c.pdf.

Billig, M. (1997). Discursive, Rhetoric and Ideological Messages. In C. McGartz and Haslam (ed.) The Message of Social Psychology: Perspectives in Mind and Society. Oxford: Blackwell.

Canclini García. N. (2013, março, setembro). Las fronteiras dentro de los países, las naciones fuera de su território. Diversitas, São Paulo: USP, 16-28.

Cevasco, M.E. (2001). Para ler Raymond Williams. São Paulo: Paz e Terra.

Coco, D. (2001, janeiro, dezembro). Mídia, imigração e interculturalidade: mapeando as estratégias de midiatização dos processos migratórios e das falas imigrantes no contexto brasileiro. Comunicação Informação, Goiânia: UFG, 4, (1/2), 11-32.

Comitê Nacional para Refugiados (Conare) (s/a). Relatório "Refúgio em números". Recuperado de http://www.justica.gov.br/news/de-10-1-mil-refugiados-apenas-5-1-mil-continuam-no-brasil/refugio-em-numeros_1104.pdf.

Escosteguy, A.C.D. (2010). Cartografias dos estudos culturais – uma versão latinoamericana. Belo Horizonte: Autêntica.

Hall, S. (2003). Da Diáspora: identidades e mediações culturais. Belo Horizonte: Editora UFMG; Brasília; Representação da UNESCO no Brasil.

Hall, S. (2005) A identidade cultural na pós-modernidade. Rio de Janeiro: DP&A.

Hannerz, U. (1997, abril). Fluxos, fronteiras, híbridos: palavras-chave da antropologia transnacional. Mana, 3 (1).

Holanda, Buarque de, S. (1995). Raízes do Brasil. (26a ed.). São Paulo, Cia. das Letras.

Holanda, Buarque de, S. (1936). Raízes do Brasil. Rio de Janeiro: José Olympio.

Laplantine, F. (2004). A descrição etnográfica. Tradução João Manuel Ribeiro Coelho e Sérgio Coelho. São Paulo: Terceira Margem.

Lévy, P. (1999). Cibercultura. Tradução de Carlos Irineu da Costa. São Paulo: Ed. 34.

Lopes, M.I.V. (2014, janeiro, junho). Mediação e recepção. Algumas conexões teóricas e metodológicas nos estudos latino-americanos de comunicação. Matrizes, São Paulo, 8, (1), 65-80.

Martín-Barbero, J. (1997). Dos meios às mediações: comunicação, cultura e hegemonia. Rio de Janeiro: UFRJ.

Rocha de Castro, J.C. (1998). Literatura e Cordialidade: o público e o privado na cultura brasileira. Rio de Janeiro: EDUERJ.

Rocha de Castro, J.C. (2000, janeiro 9). Brasil nenhum existe. Pesquisador contesta ensaio do psicanalista Contardo Calligaris sobre o fim do homem cordial. Mais Debate. Folha de S. Paulo, São Paulo, Domingo.

Rodrigues, F. (2006, maio, agosto). Migração transfronteiriça na Venezuela. Estudos Avançados. S. Paulo: USP, 20 (57), 197-207.

Ronsini, Veneza V.M. (2010, junho). A perspectiva das mediações em Jesús Martín-Barbero (ou como sujar as mãos na cozinha empírica de recepção). Revista Compós (Online): PUC-Rio de Janeiro.

Simai, S., Baeninger, R. (2011). O mito da receptividade brasileira: a negação da xenofobia na sociedade contemporânea. Anais 16º. Encontro Nacional ABRAPSO, UFPE, Recife. Recuperado de https://www.encontro2011.abrapso.org.br/trabalho/view?q=YToyOntzOjY6InBhcmFtcyI7czozNDoiYToxOntzOjExOiJJRF9UUkFCQUxITyI7czoyOiIxMSI7fSI7czoxOiJoIjtzOjMyOiJhZDJiMmFmMTUwMDZhYWE3ZGI1NWZkY2JjODQxZWE1YyI7fQ%3D%3D.

Silva Jarochinski. J.C. (2017). Migração forçada de venezuelanos pela fronteira norte do Brasil. Anais do 41º Encontro da Associação Nacional de Pós-Graduação e Pesquisa em Ciências Sociais (ANPOCS), Caxambu, Minas Gerais.

Simões, G.; Cavalcanti, L.; Oliveira, T.; Moreira, E.; Camargo, J. (2017) Resumo executivo – Perfil sociodemográfico e laboral da imigração venezuelana no Brasil. Conselho Nacional de Imigração. Brasília: DF, CNIg.

Schwarz, B. (1986). Conservatism, nationalism and imperialism. In: J., Donald, S. Hall (orgs.), Politics and Ideology. Milton Keynes: Open University Press.

Waizbort, L. (2011, junho) O mal-entendido da democracia: Sérgio Buarque de Holanda, Raízes do Brasil, 1936. Revista Brasileira de Ciências Sociais. RBCS. 26 (76). Recuperado de: http://www.scielo.br/pdf/rbcsoc/v26n76/03.pdf.

Van Dijk, Teun. A. (2002). Cognição, Discurso e Interação. São Paulo: Contexto.

Van Dijk, T.A. (2015). Entrevista: "Racismo e Cultura: uma entrevista com Teun Van Dijk". Revista PERcursos Linguisticos. Entrevista concedida a Patrícia Resende; Mayara de Oliveira Nogueira e Renata Martins Amaral. Recuperado de http://periodicos.ufes.br/percursos/article/view/11626.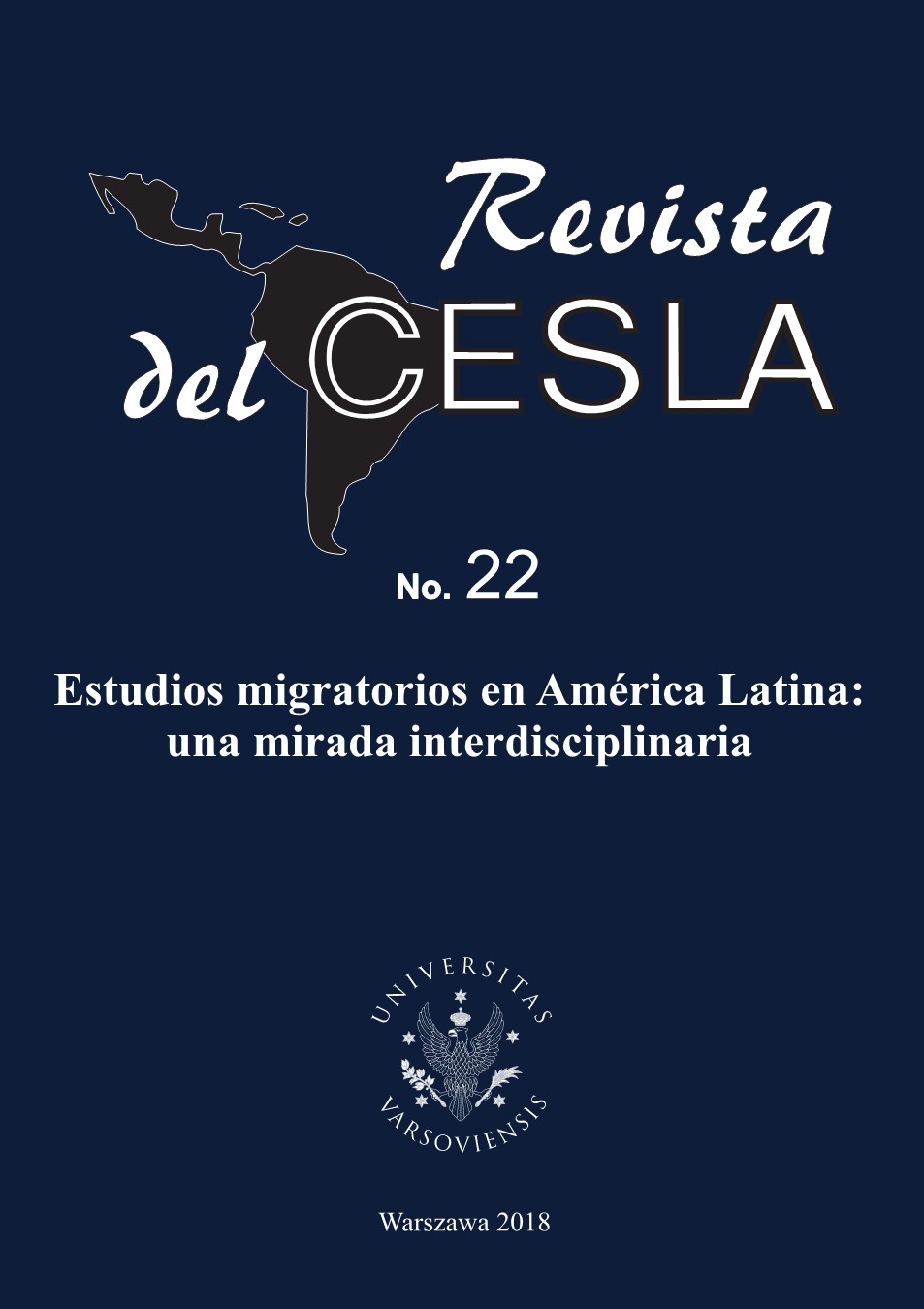 Copyright (c) 2018 Revista del CESLA
This work is licensed under a Creative Commons Attribution-ShareAlike 4.0 International License.