Unauthorized Migration and Regularization Processes in Argentina: the Senegalese Case
Bernarda ZUBRZYCKI

La Plata University (Argentina)
Keywords:
Argentina, Senegal, regularization, unauthorized migration, immigration law, control
Abstract
The purpose of this study is to analyze the regime of migratory regularization for Senegalese citizens in the year 2013 in the context of the new Argentine immigration law.
The ideas that we present are preliminary results of an ongoing study focused on analyzing the impact that the regulatory program had on the collective of Senegalese migrants.
The Senegalese case shows the limitations of migration law, beyond advancement of rights for migrants. Immigration continues to be conceived as a problem of irregularity, migrants can only be accepted when something warrants their presence or when they show that their lives are "lawful and useful". And while migration is a right, it is exercised in a discretionary way towards certain groups, for example, through the requirement of visas.
References
Acosta Arcarazo, D., Freier, L.F. (2015). Turning the Immigration Policy Paradox Upside Down? Populist Liberalism and Discursive Gaps in South America. International Migration Review 49 (3), 659-696.

Arab, C. (2008). La circulation migratoire: Une notion pour penser les migrations internationales. E-migrinter, (1), 20-25.

Bava, S. (2003). De la «baraka aux affaires»: ethos économico-religieux et transnationalité chez les migrants sénégalais mourides. Revue Européenne des Migrations Internationales, 19 (2), 69-84.

Benencia, R. (2003). La inmigración limítrofe (apéndice). En: F. Devoto, Historia de la inmigración en Argentina. Buenos Aires: Editorial Sudamericana.

Castagnone, E. (2010). Building a Comprehensive Framework of African Migration Patterns: The Case of Migration Between Senegal and Europe. Tesis Doctoral, Graduate School in Social, Economic and Political Sciences, Universita degli Studi di Milano, Italia.

Courtis, C., Pacecca, M.I. (2007). Migración y derechos humanos. Una aproximación crítica al "nuevo paradigma" para el tratamiento de la cuestión migratoria en la Argentina. Revista Ju-rídica de Buenos Aires, Número especial sobre Derechos Humanos, 183-200.

De Lombaerde, P., Guo, F., Póvoa Neto, H. (2014). Introduction to the Special Collection South-South Migrations: What Is (Still) on the Research Agenda? International Migrations Review, 48, 103-112.

Devoto, F. (2003). Historia de la inmigración en Argentina. Buenos Aires: Editorial Sudamericana.

Domenech, E. (2013). Las migraciones son como el agua: Hacia la instauración de políticas de control con rostro humano. La gobernabilidad migratoria en la Argentina. Polis. Revista Latinoamericana, 35, 1-17.

Domenech, E. (2011). Crónica de una amenaza anunciada. Inmigración e ilegalidad: visiones de Estado en la Argentina contemporánea. En: B. Feldman Bianco, M. Villa, L. Rivera, C. Stefoni (comps.), La construcción social del sujeto migrante en América Latina: prácticas, representaciones y categorías. Quito: CLACSO / FLACSO-Ecuador/UAH.

Duval, D. (2002). The Return Visit- Return Migration Connection. En: M. Hall, A. Williams (Eds.) Tourism and Migration: New Relationships Between Production and Consumption. Dordrecht: Kluwer Academic Publishers.

Estadísticas. Periodo 2012-2016 (s.f.). Comisión Nacional para los Refugiados. Ministerio del Interior, Obras Públicas y Vivienda. Presidencia de la Nación, http://www.migraciones.gov.ar/conare/pdf/estadisticas_conare.pdf.

Fall. P.D. (2014). Imagining Europe: Being Willing to Go Does Not Necessarily Result in Taking the Necessary Steps. International Commentary, 10 (35), 21-26.

Flahaux, M.L., de Haas, H. (2016). African Migration: Trends, Patterns, Drivers. Comparative Migration Studies, 4 (1), 1-25.

Freier, L.F. (2014). The Importance of Access Policies in South-South Migration: Ecuador's Policy of Open Doors as a Quasi Experiment. IMI Working Papers, 103.

Hirai, S. (2013). Formas de regresar al terruño en el transnacionalismo. Apuntes teóricos sobre la migración de retorno. Alteridades, 23 (45), 95-105.

Kabunda, M. (2007). Las migraciones africanas: más horizontales que verticales. Revista Pueblos, 28, http://www.revistapueblos.org/spip.php?article671.

Lacomba, J. (1996). Identidad y religión en inmigración. A propósito de las estrategias de inserción de los musulmanes senegaleses. Alternativas. Cuadernos de Trabajo Social, 4, 59-76.

Marcelino, P., Cerrutti, M. (2011). Recent African Immigration to South America: The Cases of Argentina and Brazil in the Regional Context. Geneva: CELADE, ECLAC, http://www.cepal.org/cgi-bin/getProd.asp?xml=/celade/noticias/documentosdetrabajo/5/44525/P44525.xml&xsl=/celade/tpl-i/p38f.xsl&base=/celade/tpl/top-bottom_dam.xslt.

Ménard Marleau, A. (2017). Ecuador como nodo articulador de la migración senegalesa en América del Sur. Migración y Desarrollo, 29, 31-50.

Moreno Maestro, S. (2006). Aquí y allí, viviendo en los dos lados. Los senegaleses de Sevilla, una comunidad transnacional. Estudios y monografías (1). Sevilla: Junta de Andalucía.

Nejamkis, L., Rivero Sierra, F. (2007). Patria Grande: consonancias ¿y disonancias? entre políticas públicas, prácticas políticas y discursos. IX Jornadas Argentinas de Estudios de Población. Huerta Grande, Córdoba.

Penchaszadeh, A.P., García, L.E. (2018). Política migratoria y seguridad en Argentina de hoy: ¿el paradigma de derechos humanos en jaque? URVIO Revista Latinoamericana de Estudios de Seguridad, 23, 91-109.

Riccio, B. (2004). Transnational Mouridism and the Afro-Mouslim Critique of Italy. Journal of Ethnic and Migration Studies, 30, 929-944.

Tarrius, A. (2010). Pobres en migración, globalización de las economías y debilitamiento de los modelos integradores: el transnacionalismo migratorio en Europa meridional. Empiria. Revista de Metodología de Ciencias Sociales, 19, 133-156.

Wabgou, M., Vargas Olarte, D., Carabali, J.A. (2011). Migraciones africanas en América del Sur: los casos de Argentina y Brasil. Bogotá: Facultad de Derecho, Ciencias Políticas y Sociales, Universidad Nacional de Colombia.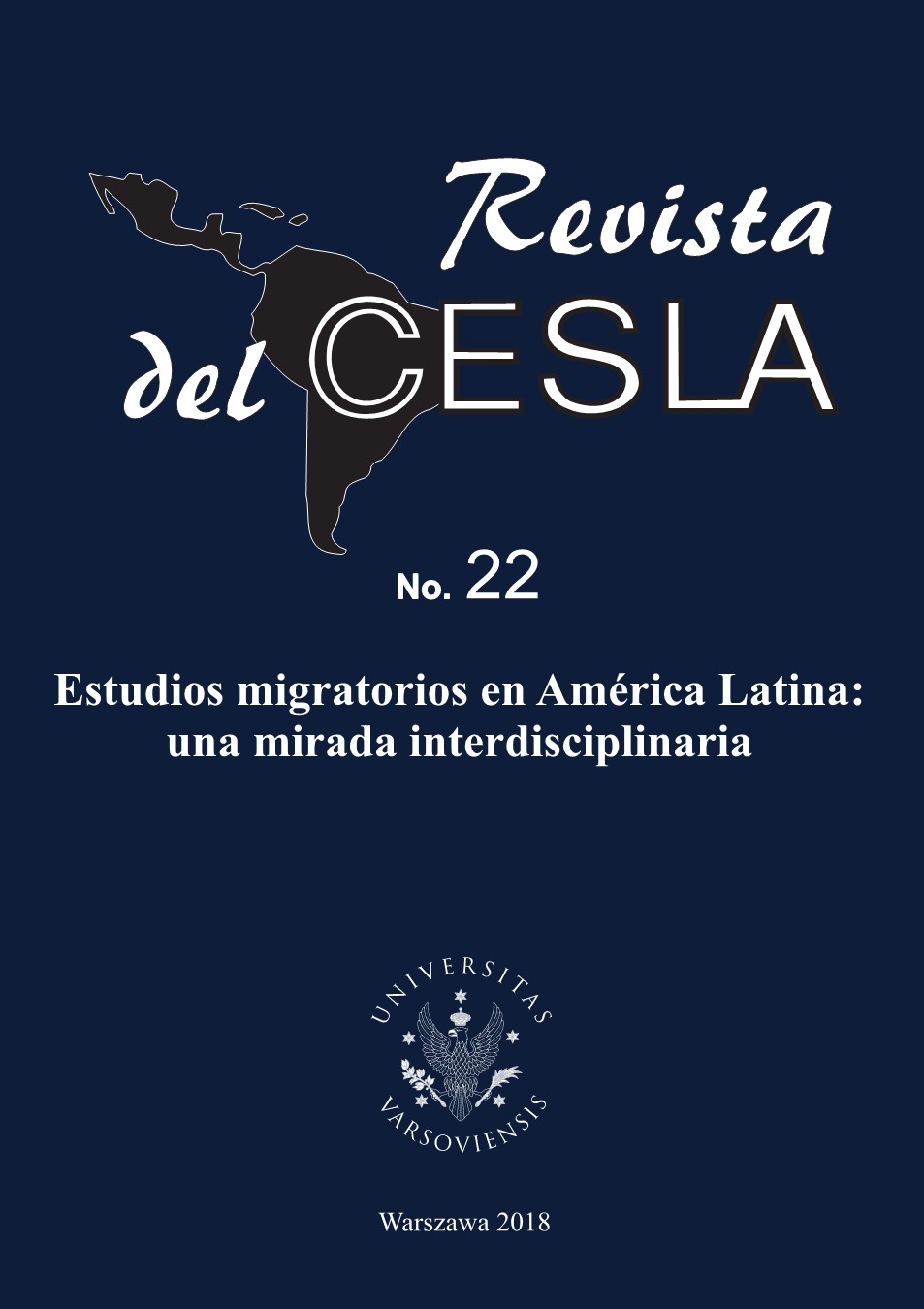 Copyright (c) 2018 Revista del CESLA
This work is licensed under a Creative Commons Attribution-ShareAlike 4.0 International License.